Jefferson Morley | October 24, 2019
Is Israel Targeting Iran's Top General For Assassination?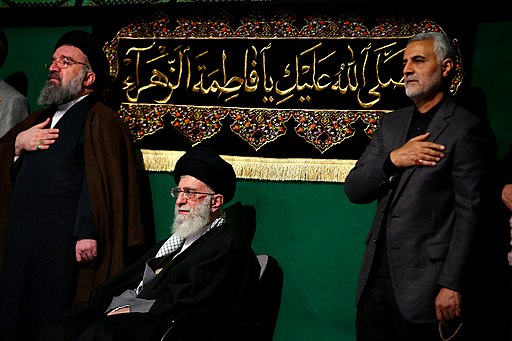 That's the question circulating both in Arab and Israeli media.
Israel's Mossad is the world's foremost practitioner of assassination. General Qasem Soleimani is commander of the Qods Force, the special operations command of Iran's Islamic Revolutionary Guard Corps (IRGC). Israel is worried about Iran's growing influence in the Middle East. Soleimani is Iran's most effective general.
In an interview published Thursday, Mossad chief Yossi Cohen said a potential Israeli assassination of Iranian general Qassem Soleimani, the head of the elite Quds Force in Iran's Islamic Revolutionary Guard Corps, was "not impossible."
In recent years, Soleimani has led two successful Iranian military operations: the campaign to drive ISIS out of Iraq in 2015 and the campaign to crush the jihadist forces opposed to Syria's Bashar al-Assad.
In the same period, Israel assassinated at least five Iranian nuclear scientists, according to Israeli journalist Ronen Bergman, in an effort to thwart Iran's nuclear program.
In a profile piece for ultra-Orthodox newspaper Mishpacha, Cohen was asked about Soleimani's claim that Israeli aircraft targeted him and Hezbollah leader Hassan Nasrallah in Beirut during the Second Lebanon War in 2006.
"With all due respect to his bluster, he hasn't necessarily committed the mistake yet that would place him on the prestigious list of Mossad's assassination targets," Cohen said.
Jack Khoury, a reporter for Ha'aretz, the leftist Israeli daily, recently reported that in January 2019, Washington gave Israel the green light to assassinate Soleimani, according to Kuwaiti newspaper Al-Jarida. 
Al-Jarida, which in recent years had broken exclusive stories from Israel, quoted a source in Jerusalem as saying that "there is an American-Israeli agreement" that Soleimani is a "threat to the two countries' interests in the region." It is generally assumed in the Arab world that the paper is used as an Israeli platform for conveying messages to other countries in the Middle East.
An October 6 report from the Meir Amit Intelligence and Terrorism Information Center in Israel highlighted Soleimani's emergence as a political figure in Iran. (The Center, named after a Mossad chief in the 1960s, reliably reflects the views of Israeli intelligence.)
Recently, the official website of the Supreme Leader of Iran uncharacteristically published photos documenting a meeting of the Supreme Leader of Iran, Ali Khamenei, the Secretary General of Hezbollah, Hassan Nasrallah, and the Commander of the Qods Force of the Islamic Revolutionary Guards Corps (IRGC), Qasem Soleimani. It is unclear when the meeting was held. The photographs were published alongside a wide-ranging interview with Secretary General of Hezbollah, Hassan Nasrallah, published on the website of the Supreme Leader. In the interview, Nasrallah detailed the development of relations between Iran and Hezbollah since the 1980s. In addition, a rare interview with Qasem Soleimani was aired on Iranian TV concerning the 2006 Lebanon War. It is possible that these media appearances, alongside the threats recently made toward Israel by senior IRGC commanders, are intended to send a deterrent message to Israel to dissuade it from continuing to act against Iranian-linked targets in Syria, Lebanon and western Iraq.[emphasis added]
By elevating Soleimani's prominence, the Israelis suggest, the Iranians are sending a message that his assassination would be regarded as causus belli, justification for war.
It is worth noting that Iranian media recently carried reports, also picked up in Israel, that its security forces had foiled a "Hebrew-Arab" plot to assassinate Soleimani. The report quoted Hossein Taeb, head of the Intelligence Organization of Iran's Revolutionary Guard Corps (IRGC)
The "assassination squad prepared between 350 and 500 kilograms of explosive material" to use against Soleimani during the holy month of Muharram, which began this year in early September, possibly in the Iranian city of Kerman, Taeb added.
Assassinating Soleimani would be consistent with Israeli doctrine. It would also suck the United States into a war with Iran, at a time when President Trump is loudly proclaiming his intention to end America's "stupid endless wars."
---