Jefferson Morley | June 20, 2019
Trump Shrugs After Iran Shoots Down a U.S. 'Spy' Drone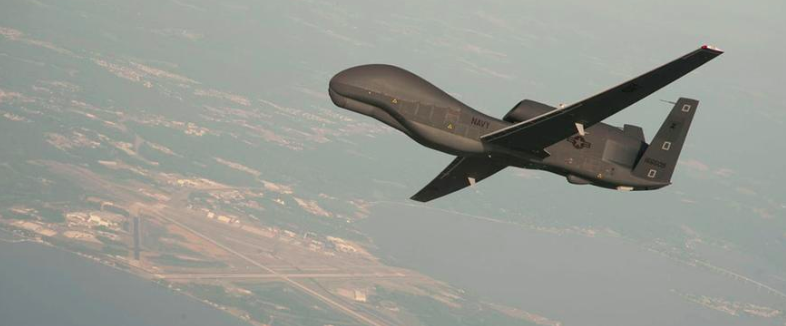 The Iranian Revolutionary Guard Corps (IRGC) shot down a U.S. surveillance drone by a surface to air missile, amid the escalating tensions of the oil tanker crisis in the Gulf of Oman. The Iranians said the drone had entered Iranian airspace while while U.S. Central Command denounced "an unprovoked attack on a U.S. surveillance aircraft in international airspace."
After last week's attack on two tankers , the incident raised the specter of armed conflict between the two countries. President Trump tweeted that Iran had made a "big mistake, "with the implication they might pay for it. Within hours, however, he backtracked.
[The IRGC is Iran's frontline of defense against U.S. military.]
"I find it hard to believe it was intentional," Trump said at the White House in comments that appeared to downplay the incident. "I have a feeling that it was a mistake made by somebody who should not have been doing [that]."
In fact, the Iranians said explicitly that the attack was intentional. IRGC commander Gen. Hossein Salami told a crowd in the western city of Sanandaj, that the American drone was "violating our national security border."
"Borders are our red line," Salami said. "Any enemy that violates the borders will be annihilated."
While Trump supporters Sens. Lindsey Graham and Tom Cotton called for strikes on Iran after the tanker attacks, Trump himself seems reluctant.
Trump's comments follow a pattern in which he walks back the confrontational language of national security adviser John Bolton and Secretary of State Mike Pompeo.
In Venezuela Bolton and Pompeo said last month that Russia's support for president Nicholas Maduro had to cease, only for Trump to say that President Vladimir Putin assured him that Russia was "not looking at all to get involved in Venezuela, other than he'd like to see something positive happen."
On May 5, Bolton announced in a statement that a carrier strike group was headed to the Persian Gulf with a warning: "Any attack on United States interests or on those of our allies will be met with unrelenting force."
Shooting down a $100 million drone would seems to be an attack on U.S. interests but, so far, Trump seems reluctant to respond with unrelenting force."
---