Jefferson Morley | April 14, 2019
Trump Seeks Prosecution of Julian Assange, Pro-Trump Publisher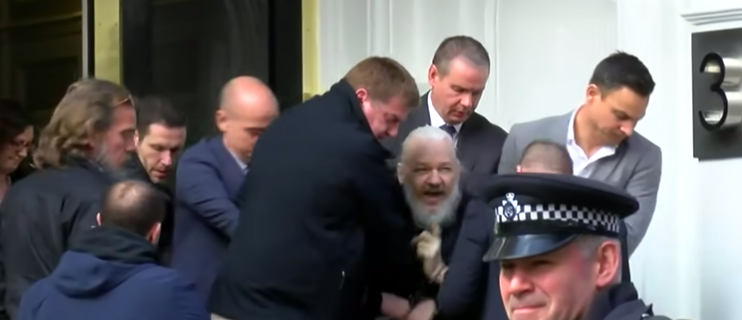 In December 2010, real estate mogul Donald Trump said Wikileaks, online publisher of leaked documents, was "disgraceful" and suggested the death penalty might be appropriate for its massive disclosure of U.S. government secrets.
In the summer of 2016, when Wikileaks began to release hacked Democratic party emails, candidate Trump said "I love Wikileaks."
On Thursday, after Julian Assange, Wikileaks publisher, was arrested in London, President Trump said "I don't know anything about Wikileaks."
The president's turnabout explains why the Trump Justice Department is now pursuing charges against the Australian hacker/publisher. It also exposes the opportunistic character of Trump's attacks on "the deep state." When Assange helped Trump, the candidate lauded him. When the secret agencies of the U.S. government decided to prosecute him, he is standing aside.
While Hillary Clinton and others have charged that "Assange is a tool of Russian intelligence," the evidence for that claim, if it exists, has never been made public. It is possible that Assange received material from Russia's Main Intelligence Directorate but it has never been proven, and he has not been charged with any such offense.
'Computer Intrusion'
The alleged crime for which Assange was indicted took place in 2010, long before the rise of Trump. He is charged with conspiring with former Army servicewoman Chelsea Manning to commit computer intrusion in 2010, a crime punishable by five years imprisonment.
The result of that intrusion was the disclosure of a mountain of evidence that laid bare previously unknown workings–and war crimes—-of U.S. military and intelligence agencies, as well as 250,000 State Department cables.
Without Assange and Manning's leak and Assange's publication, the world would have never seen how U.S. helicopter gunship killed unarmed and armed Iraqi civilians, including two Reuters reporters, in 2007.
The puncturing of the national security secrecy regime in 2010–not Assange's machinations with the Trump entourage in 2016–are why Trump's Justice Department is pursuing charges.
Assange's lawyer, Jennifer Robinson said, "This precedent means that any journalist can be extradited for prosecution in the United States for having published truthful information about the United States"
'Your Dad'
While Assange said he had no personal desire to influence the outcome of the election, Wikileak's back channel communications with Donald Trump Jr. suggest a certain eagerness to collaborate with the Trump entourage.
From a Wikileaks email to Trump's son in October 2016, as reported by The Atlantic magazine.
"Strongly suggest your dad tweets this link if he mentions us," WikiLeaks went on, pointing Trump Jr. to the link wlsearch.tk, which it said would help Trump's followers dig through the trove of stolen documents and find stories. "There's many great stories the press are missing and we're sure some of your follows [sic] will find it," WikiLeaks went on. "Btw we just released Podesta Emails Part 4."
But Assange's changing politics–radically anarchistic in 2010, effectively pro-Trump in 2016–are irrelevant to his prosecution, say civil libertarians.
The Obama Justice Department investigated Assange's actions and concluded there was not a prosecutable case, according to The Intercept. The Justice Department concluded that
such a prosecution would pose a severe threat to press freedom because there would be no way to prosecute Assange for publishing classified documents without also prosecuting the New York Times, the Washington Post, the Guardian and others for doing exactly the same thing.
The Trump Justice Department is pursuing a much narrower case, based on a 1984 law, involving conspiracy to hack computer intrusion. He has not been charged espionage or unauthorized disclosure of classified information, at least not yet.
If Assange is extradited to the United States, the government could bring more serious charges.
Key Questions
David A. Kaye, special U.N. rapporteur for freedom of expression, urged those who want Assange to be held accountable to check their personal feelings and answer two questions.
The American Civil Liberties Union called the prosecution "unprecedented and unconstitutional."
This case may be headed for Britain's Supreme Court and then the U.S. Supreme Court.
---